Simply Lit provides professional Christmas light installation services, patio lighting, as well as event and party lighting at a fair price with exceptional value throughout the heart of Atlanta, Georgia and along the 400 corridor including Alpharetta, Buckhead, Cumming, Duluth, Marietta, Milton, Sandy Springs, Suwanee, and Woodstock.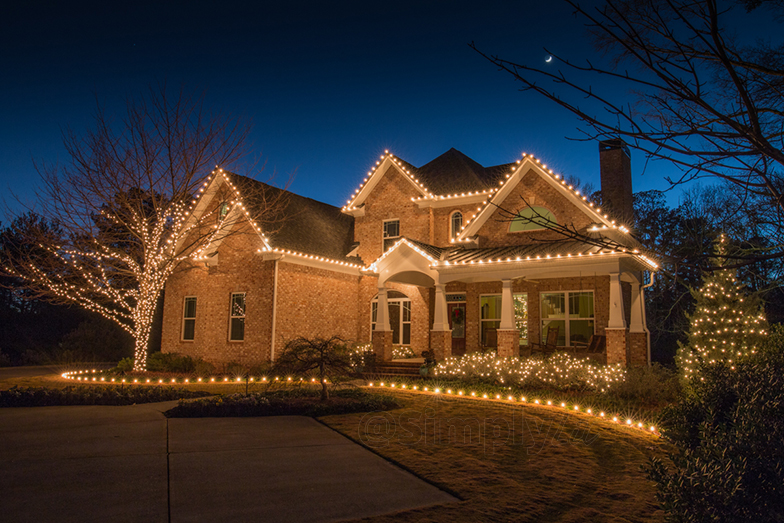 A Beautiful Christmas Light Display
Hire a Professional Christmas Light Installer
While installing Christmas lights, we always see home owners spending their weekends struggling to hang Christmas lights on their home. Our Christmas light installers are experts at Christmas light decorating; why not leave the Xmas lights up to us?
Commercial Product
We use a high quality commercial Christmas lighting product sourced directly from wholesalers in the US and abroad. We never use cheap lights from the large box retailers. Every light strand for the home is custom cut for a perfectly lit display.
Experience
Each of our installation crew leaders have over ten years experience installing Christmas lights and have installed lights on hundreds of homes, some small, some large, and many in between. With experience comes the know-how. We know exactly how to hang Christmas lights to ensure they look professional and always work. No other company in the Atlanta Metro Area has more experience or skill in the installation of Christmas lights.
Convenient
The holiday season can be stressful (especially for us!), but we don't like stress. We make the Christmas light installation process convenient for the home owner and for our installers. All you need to do is give us a call and speak with our holiday lighting decorators; we can provide you with an accurate quote over the phone and have a Christmas light installer at your door within a few days. We have a very simple process to make your home look beautiful. We'll provide the decor lights, complete the installation, warranty our work until the season is over, and remove the decorations in January.
Safety First
Climbing on ladders and hanging Christmas lights can be dangerous; we'd hate to see you or your loved ones risk their health to hang Christmas lights. Let us handle your Christmas lighting while you spend your time with the family. We've been installing holiday lights for years and have never had a serious accident, but just in case, we're fully insured with worker's compensation insurance and general liability insurance.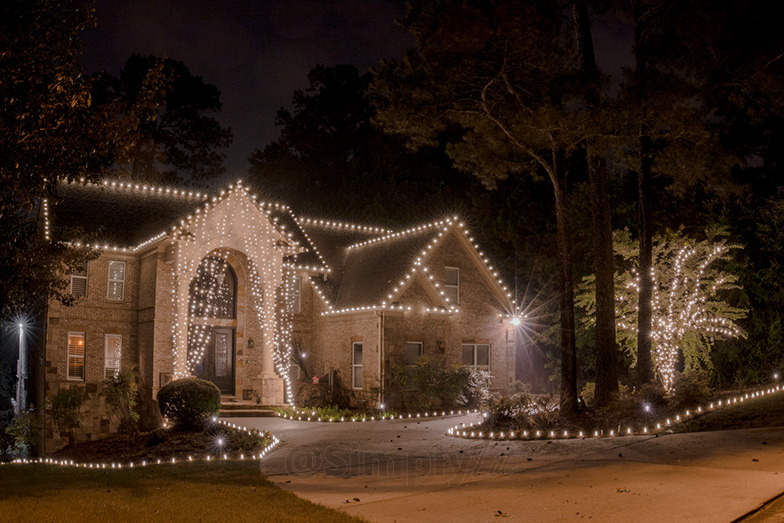 An LED light curtain hangs from this home.
Awe Inspiring
Our job is to make your house look beautiful by designing and installing an amazing Christmas light display. We guarantee that our lights will bring a smile to your face and impress your family.
Always Within Your Budget
How much does it cost to hang Christmas lights? Don't worry about it! Christmas lights should be for everyone. No matter what your budget is, we can design and install a holiday light display for you. We don't ever want someone to say no to Christmas lights!
Let's Get Started
Request an estimate for a Christmas light installation and we'll have a Christmas lighting professional contact you. If you'd like more information about how our service works and what we offer, please read our Frequently Asked Questions page. The Christmas light decorating ideas page is a great place to see examples of what we can do at your home.