What happened to Atlanta Loves Christmas Lights?
In 2015 we changed our company name from Atlanta Loves Christmas Lights to Simply Lit in an effort to expand beyond Atlanta metropolitan area and offer more services than just Christmas lighting.
Where do you buy your lights?
Our high quality Christmas lights and cord are purchased directly from a variety of factories in China. Many Christmas light hanging companies by the same 25' strand of Christmas lights that you could buy at Wal-Mart and charge you twice the price. We only use high grade lights and will custom-cut them to fit your home.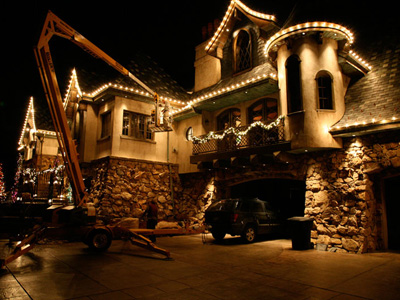 Hanging Christmas lights with a lift.
What cities do you serve?
We hang Christmas lights in the northern suburbs of Atlanta with the majority of our work in Woodstock, Alpharetta, Cumming, Marietta, Dunwoody, Duluth, Roswell, Sandy Springs, Suwanee, and everywhere in between. If you're out of the service area, please contact us anyways and we may be able to accommodate.
Do you offer a warranty?
Yes! We guarantee our Christmas light hanging service until December 25. If there's anything wrong with the installation, call us and we'll be out within 48 hours to fix your holiday lights. We want you to be happy and enjoy your lights; don't hesitate to call us if something doesn't look right or isn't working properly. Please note that we cannot provide a warranty on your decorations if you did not purchase them from our company.
Absolutely not. Nobody likes to see a bill that differs from their expectations. The price we quote you for the installation will be the price we charge you, although we do have to charge exact prices for material. We can estimate the material amount, but we will not know how many decorations and extension cords will be needed until we are finished hanging Christmas lights.
How much does it cost to hang Christmas lights?
Christmas light hanging in Atlanta may be cheaper than you think. Most homes cost between $400 and $600 in labor to hang lights on the front eaves. Trees are priced by the size and the amount of lights you would like to put in the trees and can vary in price from $40 to $1600 or up. If you are a first time customer and need to purchase holiday decorations, they will cost extra. Give us a call or fill out the estimate request form to receive a free quote.
Can I provide the Christmas lights?
No. In the past we've installed lights that were purchased from other stores and companies, but sometimes other companies' light strings can cause problems. We carry a certain style of lights in certain colors. It's hard to match your decorations with our lights. We have no idea how the lights were installed previously. After the installation, you may end up with two different types of lights in mixed colors and connections and splices everywhere. To ensure you have a great looking Christmas light display, we require that you purchase new lights from our Christmas decorating company, though we can usually use existing garland and wreaths.
When will you remove the Christmas Lights?
We begin taking the holiday lights down on December 27 and will have them all removed by January 21. If you have HOA restrictions, let us know and we can remove your Christmas decorations before the deadlines. There is no charge for removing the Christmas lights and no appointments will be made. We take the lights down by neighborhood at our convenience. There may be a $50 fee to schedule the removal of the Christmas decorations on or before a specific date if requested.