Philadelphia Christmas Light Installers
Christmas in Philadelphia and around the Tri-State area is a very special season! Seasonal attractions like the Blue Cross RiverRink Winterfest and Winter at Dilworth Park add to the festive atmosphere. Watching the eyes of children (and adults!) glisten in the lights at Franklin Square, the Comcast Center and Macy 's Philadelphia is always a treat. Christmas Village in Philly's Love Park is sure to warm the hearts of young and old alike. At Elves N Ladders, we want to invite you to be a part of the Christmas spirit in our community with professionally installed Holiday lighting for your home or business!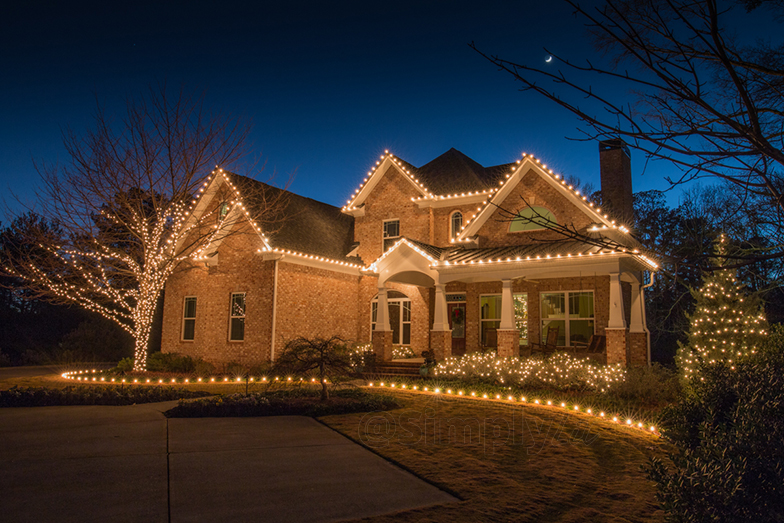 A Beautiful Christmas Light Display
Installing Christmas Lights in Philadelphia is What We Do. Elves N Ladders is not some landscaping company who decided to put up Christmas lights in the off-season. Instead, Elves N Ladders specializes in professionally installed Christmas lighting in Philadelphia and the surrounding area. It is what we do! Our Elves love spreading joy by decorating homes in Bucks County, Montgomery County, Delaware County, and Philadelphia County, Pennsylvania and in South Jersey, New Jersey!
Maybe you just don't want to climb a ladder. Perhaps you want a more professional appearance or you may just want a safer, hassle-free holiday! We understand. Let the Elves light up your Holiday!
When you choose Elves N Ladders, you get professionally installed, durable, commercial-grade holiday lighting products guaranteed to work throughout the holiday season, just like us! We are your choice in Philadelphia Christmas lighting installers to enjoy a holly jolly, hassle-free Christmas!
We'll work with you on a lighting design that is perfect for your home and property. Have an HOA? We'll even have them saying HO, HO, HO with lighting systems that are community covenant compliant. Want a dazzling display of color or a warm, soft white holiday glow? We can do it all at Elves N Ladders.
With a professional Philadelphia Christmas light installation from Elves N Ladders, you won't have to worry about:
Climbing ladders
Running extension cords
Untangling light strands
Getting an electrical shock
Fixing burned out or wind damaged lighting
The unpredictable cold Philadelphia weather
Not only will we install your holiday lighting in Philadelphia in time for the holidays, but we'll be back to take in down and store it for you for next winter. Our Elves just couldn't make it easier!
Getting Started in Your Philadelphia Christmas Light Installation is Easy! Watch the magic come to life on your home or business by filling out our online form requesting a free, no-obligation quote. We'll talk about your home, goals, and budget. One of our Elves will be dispatched to take some measurements and get you a quote. If you decide to proceed we'll schedule an installation date convenient for you. Remember, the sooner we schedule your install the more time you'll have to enjoy your display.
Add more joy to the holiday this season for you, your family and your neighbors. Contact Elves N Ladders and let the Elves light up your holiday!