The Central Pennsylvania community of Harrisburg is steeped in rich ethnic history that includes Dutch and German descendants. The community ranks ninth in population in Pennsylvania yet carries the banner of being the state's capital. It is known for hosting its very large annual Pennsylvania Farm Show, a nationally famous outdoor sports show and an extremely noted auto show. It is also where the state Christmas tree lighting ceremony is held every year.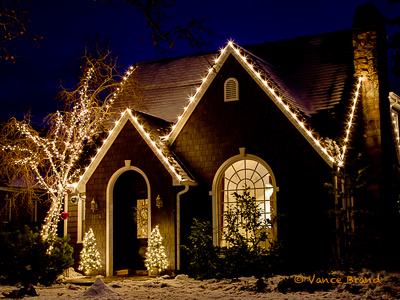 A small home with Christmas Lights
Harrisburg families take their traditions very seriously and that includes those that involve the holidays. Harrisburg families may have their own ethnic traditions, but they share in the love of holiday Christmas light "installations that set the city aglow each December. Certainly there are terrific business and public displays, but Harrisburg really shines when its residents take to decorating their own homes for the holidays.
Families travel by car to Enola, Mechanicsburg, Camp Hill, and to Hershey to see specific Christmas light installations, many of which are professionally done. East Shore or West Shore "Hburg" offers some amazing light displays every family is sure to enjoy. Don't be afraid to explore!
If you are considering a lighting display for the holidays, consider the multiple benefits of hiring a professional holiday light specialist. Will it cost you more than a DIY project? Most likely, but the conveniences and benefits far outweigh the associated expenses. Let's take a closer look.
Hanging your own Christmas lights in Harrisburg, PA means dragging out the ladder and creates the potential of an accidental fall.
Decorating your home with holiday lights by yourself could mean hours of dealing with tangled and non-working light strands.
The weather can be miserable in Central Pennsylvania in December and January. Who wants to be outside in that weather installing and then taking down their Christmas lights?
Improperly installed lights can lead to electrical shocks or even fires.
Light displays not properly secured may need re-installation after wind or snow storms.
Performing your own Christmas light installations take time to do them properly. This is time better spent with family or with other more pleasant holiday duties.
While you are guessing the pros know. Professional Christmas light installations simply look better. When you take the DIY approach it can be embarrassing.
So even if you agree the professional approach is better, where do you go in Harrisburg, PA for Christmas light installations that will impress? There's good news. You are already there!
We offer a direct connection with Harrisburg, Pennsylvania professional holiday light designers and installers who can create a masterpiece for your home or business. They do it easily and without hassle. Once you choose a professional Christmas light installation specialist, you will wonder why you ever tried doing it yourself!
The process is simple. Just fill out the online form that will be submitted to professionals in the local Harrisburg, PA area. They will contact you with bid prices for your project. Once you agree on a price and a decorating plan for your home, you are on your way to a hassle-free and more enjoyable holiday season.
Why wait? The best installation dates are filling up fast. Fill out your bid form or call today!