About Philadelphia's Elves N Ladders
As you can probably tell from our name, Elves N Ladders is not your average Philadelphia Christmas light installation company. We were not formed to fill the time between landscaping and mowing seasons. No, Elves with Ladders was established in 2018 to spread Christmas joy and revive the Christmas spirit we thought was lacking. We love Christmas lights.<\p>
Our goal is to share holiday magic one home at a time with a display you will be proud to share with friends, family, and neighbors. We help those who may not have the ability or time to do it themselves.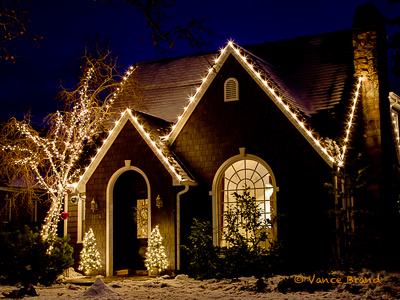 A small home with Christmas Lights
What Makes Us Different? Well, besides the fact that installing Christmas lights for homes and businesses in Philadelphia is what we do, we are also doing what we love. We have a passion for the Holidays and Christmas light displays. With Elves N Ladders, you actually lease the lighting we install on your property. You don't have to purchase it, store it, or repair or replace it. We also guarantee our work. If there is a problem with your installed display throughout the season, contact us and our Elves will be out, usually within 24 hours to fix it. In addition, while some companies will only allow you to choose the shade of white lights you may like, Elves N Ladders allows you to select any colors you choose! We'll even help design your holiday lighting display.
In spite of the fact that you lease our lighting systems, your lights are custom cut for your home. This minimizes extra lighting strands and unsightly cords on your home and yard. When the season is over, we'll be there to uninstall your Philadelphia Christmas lights and store them safely away for next season.
Elves N Ladders' lead Elf is Zack Marker, a retired DJ who has a love for everything holiday-related and who still has a bit of showmanship in him. Living in a row house in the city, Zack's ability to share the holiday spirit by decorating his home was limited. He decided the answer was starting Elves N Ladders. By spreading holiday cheer through decorating the homes of others, Zack is achieving his goal through the magnificent holiday lighting displays he installs throughout the Philadelphia area.
Our process is as easy as one, two, five!
Contact us for a no-obligation, no-cost consultation to discuss your goals, your property, and your budget.
One of our Elves will come to your property, take a few me measurements, and further discuss your project with you.
You'll get a free quote back within 48 hours by text or email. Our Elves will even magical produce an image of what your home will look like once it is decorated!
Should you decide to proceed, we'll schedule a set-up and take-down date to suit your schedule.
Of course, the best part of our process is the weeks and weeks of enjoyment you will get from your holiday display!
Don't wait to get started. Fill out our online form today!