Here are some of the most frequently asked questions about Philadelphia's Elves N Ladders.
Where do you install holiday lighting?
Elves N Ladders proudly serves the Philadelphia, PA area including Philadelphia, Montgomery, Bucks, and Delaware County in Pennsylvania and in South Jersey, New Jersey.
Are you on social media?
Our Elves are busy over there too. Visit us on Facebook at www.facebook.com/elvesnladders and on Instagram at @elvesnladders
Do you install customer-purchased lights?
No, we only install our commercial-grade lighting products and lease them to our customers. This helps keep our prices down and ensures a brilliant, long-lasting beautiful display. Other benefits with leasing include we remove and store all of the products throughout the off-season. Leasing also allows you to change your display annually if you choose.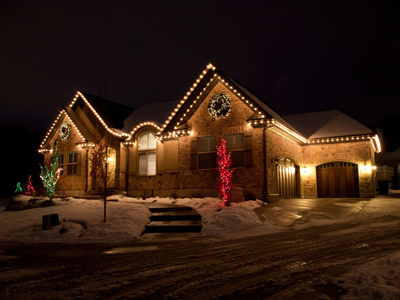 A small home with Christmas Lights
Do you customize my display?
Absolutely! Our lighting products are cut to fit your specific home and property. We make sure there are no extra lights or unsightly cords that would negatively impact your display. Each display is neat and clean.
What kinds of lights are available to me?
You can make the choice or we can assist you. We offer commercial-grade LED C7 bulbs in any static color combination, also color-morphing C7s, Mini Lights in all colors and RGB pattern LEDs. We also carry wreaths, garland, bows, trees and more.
How are your lights purchased and where? Do you buy in bulk?
We buy in bulk to save our customers money. Holiday Bright Lights is our main supplier.
What type of customization options do you offer?
We fully-custom design each one of our displays for that stunningly unique look.
Do you use any special type of equipment when installing lighting?
Mainly we use Elves and ladders. We also use the latest safety equipment.
What type of insurance/bond coverage do you have?
We maintain sufficient liability insurance to cover any property and bodily injuries.
What is a typical price range customers can expect?
Because every installation is unique it is hard to estimate the cost without first seeing the project. However, most residential projects cost between $750 and $2500.
Do you guarantee your work?
Certainly! If anything stops working while installed on your property just give us a call. We will do everything we possibly can to fix it, usually within 24 hours. If anything is broke when we do our testing in the off-season, we will fix it, free of charge.
What if a display you erect is partially blown down by wind or storms? What is your policy?
Our Elves will do our best to fix everything ASAP. If it is an act of God, however, and significant damage is done, additional charges may apply.
When and how are the dates of installations chosen?
Installation dates are scheduled by location first. We divide our clients into small clusters based on location, and then we work in one area until all homes in that area are done, and then move on to the next area. Special dates can be requested, and we work our best to accommodate. The earlier you book, the better chance you have at receiving your requested installation date.
When would light removal be expected?
Lights are removed beginning January 4th and continue until all houses with our lights have been removed, usually by mid to late January.
Do you do both residential and commercial displays?
Yes, we sure do!
How and when do I pay for my service? 50% of your leasing fee is due upon booking, and the remaining 50% due on the day of installation. We accept a number of payment options.
What are the factors that determine pricing on a project?
Multiple factors can affect project pricing. The size and scope of the project and materials necessary to complete it are a few. Elf-hours to install the project will impact pricing as well.
How do I get started?
Simply fill out this the estimate request form!