Market your Christmas Light Business Online
Perhaps you've just started a Christmas light installation business this year, or maybe you've been operating a holiday lighting business for the past few years. Either way, if you're like most small businesses, you need more customers. We know you're great at installing Christmas lights, but you might need a little help with advertising. LoveChristmasLights.com can help you out in ways you'd never imagine.
Your #1 Advertisement
The Internet is becoming the number one place to look for new products and services. The old ways of finding customers are outdated. The phonebook might provide only handful of leads, if you're lucky. Direct mail used to be great, but now homeowners are being spammed by junk mail. Websites are finding hundreds of customers for businesses just like yours. A website like LoveChristmasLights.com can generate over a hundred leads in large metropolitan areas and dozens in smaller cities.
Find customers who are looking for Christmas lights! Visitors to this website are looking for Christmas lights. They're already interested and just need to find you. Visitors will land on one of our pages, see your name on the website, be amazed by the photographs, and then call you. We've already made the sale, you just need to close and schedule.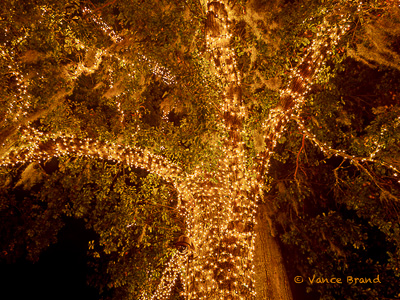 Thinking Big?
Is your Christmas light business on-line?
What's in your advertising arsenal? Referrals, door hangers, door knockers, fliers, phone book, direct mail, coupons? Are you on-line? If you're not on-line, you are missing a tremendous amount of consumers who are looking for Christmas light installation companies just like yours, but they're not finding you. If they don't find your business, they'll find your competition. In a recent survey, 1 in 3 Christmas light customers hired the first–and only–Christmas light company they found. If your customers find someone else first, you're likely to be losing a ton of business.
Supplement Your Current Website
Perhaps you do have a website and you're disappointed with the number of leads you are receiving. Are people finding your website? When they do find your site, are they being scared away? Most homeowners who hire Christmas light companies have household incomes over $100,000 and they can tell the difference between a cheap website and a professional website. Your website is the first impression your customers have of your business. Do you want to make a lasting impression that leaves them with awe, or do you want to chase your visitors away with dancing snowmen and talking elves?
Perhaps you have a professional website and have great SEO (Search Engine Optimization). If so, then you understand why it is important to have a great web presence. You're probably even looking for ways to improve your current website. Supplementing your website with lovechristmaslights.com will further increase your marketing objectives.
If you want to run a successful Christmas light business, you need to advertise your company on LoveChristmasLights.com
What do I get when I list on LoveChristmasLights.com?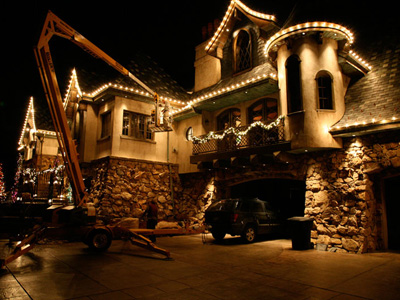 Need a Lift?
A professional website design
Breath-taking photographs
Your company name and phone number in the masthead
Search engine rankings
Your own unique pages
Listing your Christmas light installation company on our website allows you to have unique content on as many pages as you wish. You can write your own content or we can work with you to write text for your pages. We provide an estimate request form that will be displayed to your visitors. Any submissions will be emailed to you, sent to your cell phone, and even accessible through our back-end software. Your name and phone number will appear on each of your pages. You also get to use our Christmas light photo gallery which is full of professionally shot Christmas light photos. If you have your own photographs, you can even make your own Christmas light photo gallery. We're always writing more pages and articles to add to the site to gain more traffic. When visitors from your city land on one of these articles, they'll see your name on top of the website. Browse through the website and picture your name being on every page (unless you're visiting another city's page).
Professional Web Content
We know how much you dread writing. Lost for words, writer's block, out of ideas, etc. That's okay. We have content writers to work with you to write the web copy for your web pages. They know what questions to ask and how to write so that customers will want to hire your company.
Do you want to seal out the competition?
Sure there are lead generation services like ServiceMagic.com, but they just give you a name and a phone number, which they also gave to three of your competitors. LoveChristmasLights.com does not send leads or visitors to your competition. We believe in exclusivity; your installation company will be the only business to advertise on this website within your region. How big is your region? It's huge. You have the whole city. We're not going to slice up your market into several pieces and pawn them off to your competition. List your Christmas lighting business with us and your competitors will be sorry they didn't find us first.
Exceptional Value
If you hired someone to build a website like ours, here's what it could cost:
Hosting and domain name: $500 / year
Unique design: $2000
Breathtaking photographs: $300 each
Search Engine Optimization: $500 / year
Updates and maintenance: $300 / year
Why spend all this money when you can use us at fraction of the cost?
When you use our website, you'll be getting all this for one low annual fee!
Dozens of professional photographs for use on your web pages
Free designs as they become available
Great rankings on the search engines
Ongoing SEO services to ensure your pages are ranked higher
A ton of traffic!
Is your advertising budget limited?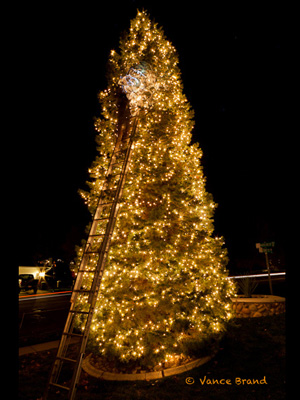 Reach New Heights!
Did we mention that we're inexpensive? Most services will charge you for each lead that you receive. Let's say they charge you $18 and give your lead to three other companies. You're able to seal the deal with 50% of your leads. The cost of acquiring a customer could be as high as $100, or even higher. We're not going to charge you this exorbitant fee. With our website, you only pay for content and a low yearly fee. Listing your Christmas light installation company on this website will cost you a fraction of the price of hiring a web developer to design, code, and write your own website.
What's the price?
Sign up is free for a limited time only. For new clients, we are offering a trial period until November 15.
The annual subscription fee—which covers hosting, website updates, additional designs for your pages, the professional Christmas light photos, and search engine optimization services—depends on the size of your metropolitan area. Contact us to find out what your area would cost.
Want traffic to your website?
Not only do you get to call this website your own, but you receive the benefits of having a huge website with increasing search engine results placement. Getting traffic is all about having a relevant website for the search terms. The search engines like to see websites with lots of content and lots of inbound links. When you add your pages to our website, you'll not only have your own pages for Google's appetite, but you'll have pages from all the other businesses listing on the site. You don't have to write content and you don't have to search the Internet and convince webmasters to link to your site; we've already done that, and continue to work on getting more links.
I'm definitely interested! How do I get started?
Click here to get listed on LoveChristmasLights.com
Getting started is simple. Make sure we don't have a Christmas light installation company in your metropolitan area. Remember, we only allow one company to advertise within a geographic market. Then head to this sign-up page and submit your information. After submitting your information, a member of our team will contact your for more details before adding your company to this website. Once you're added, you can log into our backend software and create your pages.