The Christmas season is getting close, even in Ft. Meyers, Florida! This may be the land of beaches and water, but when it comes to Christmas, we are as festive as the snow-covered cities and small towns.
From the Annual Fort Myers Beach Christmas Boat Parade to the Holiday Bazaar at Koreshan State Park and Christmas Market at Marinatown, Floridians know how to kick off the season!
In fact, there is so much to do in Ft. Meyers Florida, you can't get to all of it every year. While much of the country is dreaming about a white Christmas with snow, we have beautiful white sand and blue waters that become just as festival as anywhere else you want to be. Where do you think Santa goes to for relaxation before he heads home?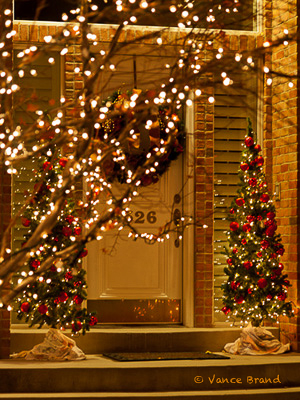 Lights Decorate this Entranceway
Up Go The Holiday Lights – Or Do They?
Climbing up in the attic or through the garage to find tangled lights then pull the heavy ladder out and climb up to the roof while toting that wad of lights is difficult. That Christmas spirit is sucked out before you make it to the third rung! Many business owners and homeowners will stay traditional and hang their holiday lights and set up their holiday decorations themselves. But for some, this is a challenging feat they can't do anymore, whether it is a shortage of time or other issues. And those are the people that we're here to serve!
We offers experienced, professional holiday lighting and decorating services in and around the Ft. Myers area, at a price that won't kill your holiday budget. From the center of Ft. Myers and outward to Bonita Springs, Estero, Lehigh Acres and beyond, we're bringing holiday cheer by taking the stress of hanging lights away from business owners and homeowners.
With more than 10 years of experience at installing Christmas decorations and lights, we have given the following structures that holiday cheer:
Commercial Business Structures – large and small
Single-Family Homes – all sizes with various levels of details
Apartment Buildings
Homeowners Association Offices
Government Buildings and Public Entrances
Churches
We take our client's dreams and visions then articulate those into a display of Christmas lights that bring the smile to faces and sparkles to eyes. From the simplest one strand of lights to complex, detailed, and extensive displays that include movement and music. And when the holiday is over, we return to take it all down, pack it away and take it away.
Why Hire a Professional Christmas Light Installer For Your Business or Home?
In addition to having more than 10 years of experience in installing holiday lights, we have a deep reputation of respect from our clients. Because we are bonded, insured, and licensed, they know we are trustworthy and will complete the job to their satisfaction. We have provided our holiday light service to thousands of businesses and homes in Ft. Myers Florida that has created the reputation we have. We work harder each year to maintain that reputation.
Using only commercial grade lighting and equipment, Ft Myers businesses and homes will look their absolute best this holiday season when they use a professional Christmas Light service. The excellent results and service we provide are what keeps our clients coming back and our reputation is why we are growing with more new clients every year.
Don't Wait – Call Today!
The Fall season is here, and we are already booking up our Christmas light installation calendar. Don't wait another day – call us today to get your business or home on the books. The About Us section of our website should answer any questions you may have, but if not, feel free to give us a call. Our customer service team is happy to answer all questions and get your address booked today!