Tampa Christmas Lights
Hello. My name is Shawn. I created this website to generate leads for my Christmas light installation business in Atlanta, Georgia. Although my primary business concerns the installation of Christmas lights, I would have no customers if I didn't have a very effective website. With a background in computer science, a desire to learn SEO (search engine optimization), and a need for a high quality Christmas lighting website; I developed, wrote, and designed lovechristmaslights.com. I've spent countless hours in the off-season learning, writing, and working to build the page you are reading now. I want to extend my hard work to help build and grow your company.
Advertise Your Christmas Light Installation Company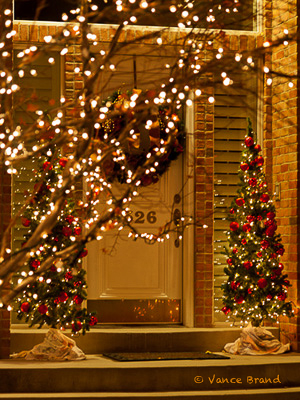 Lights decorate the front door
You—owner of a Tampa Christmas light installation company—probably need new customers. I'm trying to build a million dollar business in my city. I can't do that without expanding and finding new clients. I wrote and designed this website to find those new Christmas light customers, or to help those customers find me. Without a strong web presence, people cannot find my company.
My company, Atlanta Loves Christmas Lights, has received well over 100 leads from this website in 2012. I cannot guarantee that your company will be inundated with leads, but I can extend the same website to your market and I can guarantee that you will receive leads from this website.
What I Can Do For You
I'll provide you with a high quality, Google ranked, professional website, but that's not too important to your Florida Christmas light installation company. You want qualified leads—people calling you to install Christmas lights on their homes. I can work with your company to write content, add pages to this website, and let visitors find you can call your company. You can focus on operating your business, I'll focus on finding customers for you and sending you qualified Christmas lighting leads.
What You Need to Do
To get listed on this website, you first need to head over to the sign up page and fill out that form. I'll contact you, tell you a bit more about my website service, collect some more information about your Tampa Christmas lighting company, and together, we'll write content for your company. After the content is written, we'll publish your pages and wait for the Christmas light leads to start coming in. In the mean time, you can read a bit more about the Christmas light marketing service and why you should join us.