Christmas light installers in Toledo, OH will once again be busy as the city makes plans for the Holiday season. To avoid what could be potentially nasty weather, Toledo likes to get many of their holiday celebrations started early. The Toledo Christmas Parade is scheduled for mid-November as is the start of the Toledo Zoo's "Lights Before Christmas" events. Of course, the community also has other events like horse-drawn carriage rides at The Shops at Fallen Timbers, Children's Wonderland at the Sylvania Tam-O-Shanter, and Ice Carving demonstrations at the Toledo Zoo.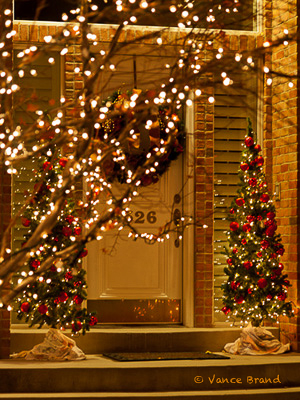 Lights Decorate this Entranceway
Many private business owners and homeowners try to get a jump on the weather as well, by getting an early start to decorating their homes. Christmas light installers in Northwest Ohio start planning and installing holiday lights right after Halloween, and that is why it is so important to schedule your professional Christmas light installation early.
We are your best online source for selecting Toledo, Ohio Christmas lighting experts. We make it as easy as possible for you to get estimates on your particular project, whether it be your private home or your Toledo, OH area business. Here's how it works:
Fill out your information on our bids request form or call the toll-free number.
Toledo, Ohio area Christmas light installers will submit estimates on installing your lighting display.
Select a vendor from the estimates you receive.
Schedule your Christmas light installation and enjoy your professionally installed display!
There are many reasons to move to a professionally installed display this year. When Toledo, OH Christmas light installers install your lights it means:
You avoid putting up and taking down lights in potentially brutal Northwest Ohio weather.
You don't have to climb ladders or get out on your roof.
You won't be fighting your bushes and shrubbery.
There will be no more frustrations with tangled and non-working lighting strands.
No more worrying about what extension cord goes to what socket.
No concerns about reinstalling lights after storms.
Your lights will be tastefully and professionally installed.
Packing the family up to take evening drives to look at Christmas lights is still a great tradition in Toledo. Many find the Christmas lights in Maumee, Perrysburg, Sylvania, and Ottawa Hills particularly beautiful. Many homes in these areas use professional Christmas light installers to create displays that fit the personalities of their homeowners and their neighborhoods. Join the growing list of property owners in the Toledo, Ohio area who are enjoying their holidays more with hassle-free Christmas light installation.
Fill out our easy form or call today. Remember, Christmas season starts early in Toledo, so the time to act is now!