Most people have something of a "love hate" relationship with holiday lights. One of the true joys of the Christmas season involves getting in the car, driving around and looking at all the beautiful light displays in your area. Even coming home from a hard day at work is an experience made just a little bit better knowing that you'll have a full light display on your own home waiting for you. That's the part of the situation that people tend to love.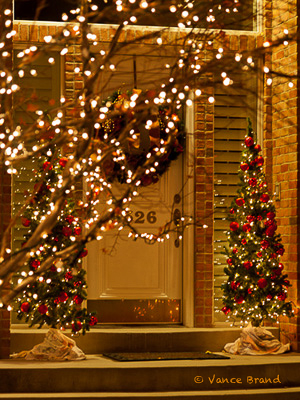 Lights Decorate this Entranceway
The "hate" part of the holiday lights relationship tends to be everything else. There are few things more frustrating that opening up a box in your garage with lights that you packed neatly just a year prior and being greeted with a tangled mess of wires, individual bulbs that don't work and entire stands that seem to blink on and off (if they turn on at all) for no apparent reason.
That's where Christmas light installation services in the Cleveland, Ohio area come in. Instead of going through the hassles of Christmas light installation services on your own, you can have a third party come and perform those services for you. Whether you're using lights that you already have or want a company to come and install a completely new holiday lighting configuration with each year to keep things fresh, we have exactly the tools that you need and the training required to get the job done right.
There are a wide variety of different reasons why investing in Christmas light installation services in your area is a good idea. For starters, you aren't just hiring someone to come to your house and set up Christmas lights - you're getting reliability at the same time. If even a single light is out of place, a representative from the company will take care of it. If bulbs are flashing for some unexplained reason, rest assured that the service that you employ will find that reason and eliminate it as quickly as possible.
Another important reason why hiring Christmas light installation services in Cleveland, Ohio is a good idea is because of the frantic pace that tends to come along with the holidays. Everyone is busy around Christmastime - let us take one thing off your plate so you have more time for the rest of it.
To find out more information about holiday lighting services in Cleveland, Ohio and surrounding suburbs like Brook Park, Middleburgh Heights, Parma, Lakewood and more, don't hesitate to contact us today. You'll be able to receive a customized estimate on holiday lighting services that will allow you to enjoy everything that Christmas lights have to offer with none of the stress and frustrations that normally go along with them. One of our trained and passionate representatives is already looking forward to taking your call and discussing the specifics of your own personal situation.