Charleston Loves Christmas Lights is a professional Christmas light installation company serving the Charleston metropolitan area. The company employs a team of three Christmas light installers and is owned by Scott Edge, a local resident and native of Charleston, SC. As one of the top landscape and Christmas lighting companies serving the Charleston metro area, Charleston Loves Christmas Lights has crafted more than 100 beautiful seasonal light displays that stand as a shining beacon throughout the holiday season.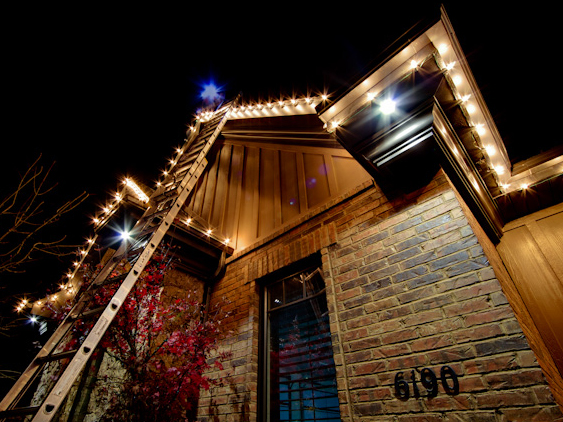 Installing Christmas lights on a house
About the Owner
Scott began his career at Nissan and Audi North America, where he successfully climbed the corporate ladder for 11 years. While he found satisfaction in this work, Scott decided in 2006 to engage in his true passion for entrepreneurship and purchased a franchise from Outdoor Lighting Perspectives©, operating in Greenville, SC. He grew the business profitably for over five years, gaining valuable skills and launching two additional businesses in the process.
Once Scott felt satisfied with the revolving revenue stream and large client base generated by Outdoor Lighting Perspectives, he decided it was time for a new venture. He sold his company in 2012, which had become the largest landscape lighting and Christmas lighting business in upstate South Carolina, and started two new companies—Carolina Landscape Lighting and Charleston Loves Christmas Lights—in his hometown of Charleston, SC.
Scott earned an undergraduate degree from the Honors College at the University of South Carolina and an MBA from the University of Georgia. Aside from his passion for hanging Christmas lights and landscape lighting, Scott enjoys spending time with his wife and two sons and participating in competitive cycling.
Our Process & Products
Our Christmas light installation process is very simple. All you need to do is request an estimate, and we'll take it from there. We guarantee quick and easy service with estimates completed immediately and installations generally completed within five days of client approval. Off-season storage of your holiday lights at our climate-controlled facility is a complimentary part of our Christmas light decorating service. Every decoration we use is commercial-grade quality and comes with a three-year guarantee.
Our Philosophy
We believe in providing each and every one of our customers with the best Christmas light installation service. At Charleston Loves Christmas Light, we believe that customer service is not simply a department; it is everyone's most important job. That is why we are happy to offer the following:
Competitive pricing
Artistic and appealing designs
Quality work
Exceptional service
Caring and professional relationships with our clients
To request your estimate for Christmas light installation today, simply call or text 843-817-9797.