Because Tulsa, OK is a city that still maintains a small town feel, there is a certain closeness in the community that is amplified around the holidays. Residents enjoy the annual Winterfest in Downtown Tulsa that includes live entertainment, concessions, fireworks, horse and carriage rides, ice skating and more. This family friendly event includes Oklahoma's largest Christmas Tree. Winterfest activities also include a holiday parade. Organizers even include a warmer tent, where you can duck in out of Tulsa, Oklahoma's unpredictable December weather.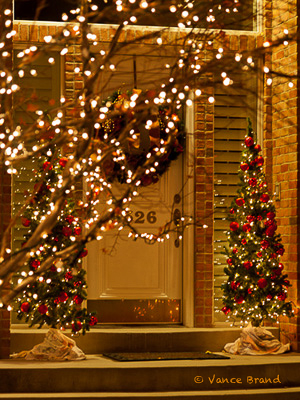 Lights Decorate this Entranceway
Even with all of the activities and lights in Downtown Tulsa, families still enjoy the simple tradition of driving through neighborhoods, looking for homes decorated for the season. Many Christmas light installations can lead to expressions of "At least they tried." If you want your home's holiday lights to stand out and be specifically designed for your home, it's time to contact a professional.
Professional Tulsa area holiday light installation companies can help make your holidays much more enjoyable and hassle-free. They can even help decorate your small business or office.
Where do you start when searching for a local company that specializes in Christmas light installations? You are already here!
When you submit your information via the online form or place a phone call, you set in motion a series of events that just may lead you to a more relaxing and enjoyable holiday season. Local companies will have the opportunity to respond to you with options and pricing for your particular project. All you need to do is work out details and enjoy your home for holidays.
Christmas light installations are becoming more popular as families look for ways to spend their time more efficiently during the season. There are many other good reasons to hire a professional.
Professional installations are safer. You don't need to climb ladders.
Professional displays look better. Professionals know exactly what will create your desired effect.
Installation and take down is included in the fee.
You stay out of Tulsa's cold December temperatures and weather conditions.
There's no mess with strings of lights or extension cords.
As the popularity of professional Christmas light installations increase, it becomes more and more important to request your bid earlier and earlier. If you live in South Tulsa, Brookside, Philbrook, Utica Square or any of the other neighborhoods where professional holiday lights are popular, the time to request an estimate is now.
Fill out the online form now and take the steps to a more enjoyable holiday season. Do your part to add to the holiday spirit in Tulsa with your very own professionally installed Christmas lighting display.