Decorate Your Home with Christmas Lights
Would you like to have a beautiful outdoor Christmas light display that impresses your family and neighbors? Are you too busy during the holiday season to hang Christmas lights? Why not hire a professional Christmas light installer from Tampa to design and install an amazing Christmas light display for your home?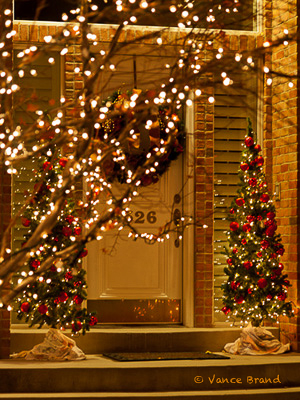 Lights Decorate the Front Door
Tampa Christmas Light Installers
Professional Christmas light installers take the hassle out of the outdoor Christmas decorating. All you need to do is schedule an appointment to speak with a holiday light design consultant, discuss different outdoor Christmas lighting ideas, and book an appointment to have lights installed at your home. Most Christmas lighting companies will provide all the decorations, necessary extension cords, and equipment to complete a standard Christmas light installation. You can choose from a variety of lights and colors that will look amazing at your property. After the holiday season is over, the company will return to remove the decorations. Some companies even store the lights for you until it's time to string the lights again.
Benefits of Hiring a Professional
There are many reasons to hire a professional, but here are some great reasons to hire the pros rather than hanging Christmas lights yourself.
Experience The pros have installed lights on hundreds of homes around Tampa.
Convenience Just request an estimate, speak with an associate, and schedule an appointment.
Quality Along with experience, the professionals offer high quality workmanship on the installations.
Time Christmas light installers can complete most installs in a few hours.
Safety Professionals are concerned with their safety during the installation and your safety after the lights are installed.
Christmas Light Display Ideas
Professional companies will usually include the front eaves of the home in any display. After lights have been installed on the eaves, pine trees and deciduous trees may be added. Wreaths and garland may also be added to provide daytime decor when the lights are not on. For more holiday lighting ideas, please browse the photo gallery or request an estimate!
Areas We Serve
Most installations are completed within Tampa and the surrounding suburbs, but installers are also located in St. Petersburg, FL and Clearwater, Florida. Contact us to see if there is a Christmas light installer in your city.
Let's Get Started
Contact us right now for more information about the Christmas light installation process or to speak with a Christmas light installer about designing a beautiful Christmas lighting display for your Florida home.