In November 1989, while operating a window washing company, a customer asked Vance Brand and his business partner, Scott Davis, if they would install Christmas lights on the front of her two-story home in Sandy, UT. At the time Vance was also working as an electrician for his father Dean Brand, who owned Brand Electric. Vance had the ladders and had the background in electricity. Hanging Christmas lights seemed like a logical addition to the window washing business. The first customer paid $100 for lights installed on the front of the house. The company was now in business and eager to install more Christmas lights.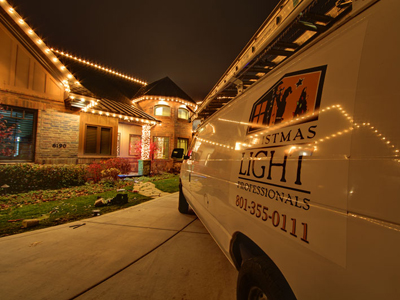 A Christmas Light Installation Van
Scott and Vance printed and distributed some flyers with no leads. They only served one customer that first year. In 1989, few people had their lights professionally installed. There was only a hand full of Christmas light installation companies operating in Utah. Many homeowners installed their own lights and few would decorate with elaborate displays.
The following year, the two-person team printed more fliers and distributed them at the Layton Hills Mall. This year was a little better than the first year. A few people responded to the flyers. One of these customers still hires The Christmas Light Professionals to hang their holiday lights.
The company continued to grow over the next few years. In 1997, Vance was offered a job in Phoenix and Scott was planning on attending law school. In Phoenix, Vance installs lights for four customers. Back in Salt Lake City, Ryan Brand joins the team and helps Scott hang lights. By summer 1998, Vance is ready to sell the Christmas light installation business and focus on a sales career. He sells the window washing aspect of the business for $15,000 and offers to sell the Christmas light business for $10,000, but no one responds to the offer.
With no buyers, Vance keeps the Christmas light business. Ryan joins the company at this time and Scott goes to law school.
Vance continues to work in the corporate world and installs Christmas lights for a few weeks out of the year until 2001 when he is laid-off. At this time Vance was living in Seattle and could not find work during the recessionary period. He moves back to Salt Lake City and decides to focus on the Christmas light business. With help from Ryan, they grow the business 20% per year for the next few years. In 2007, the company moves into Denver, Colorado and Logan, Utah while growing within Salt Lake City.
Today, The Christmas Light Professionals serves over 1,500 clients in Utah. The company is expanding into new markets and introducing some new services for other Christmas light companies. Perhaps someday, the Christmas Light Professionals will be the largest non-franchised Christmas light business in the U.S. An installer hangs Christmas lights in a tree.
About the Owners
The Christmas Light Professionals is privately owned and operated by Vance and Ryan Brand. The brother duo has been hanging Christmas lights since they were in college and have continued to do so every season. Vance and Ryan learned their dedication to professionalism and work ethic from their father, Dean Brand, who was an electrical engineer and founder of Brand Electric.
Vance Brand
Vance's business experience started before he was old enough to drive a car. As a kid, he started Brand Tilling, a company that would till fields for local farmers. This would be the start of Vance's entrepreneurial adventures. Vance had stopped the tilling business by the time he was in college. While attending classes at the University of Utah, Vance started The Christmas Light Professionals. In 1993, he graduated with a Bachelor's Degree in Communication. After graduation, Vance worked as a sales rep and regional manager for a variety of IT companies such as Centra Technologies, Siebel Systems, Market Star, and Applix. Working in these positions taught Vance a lot about sales, marketing, and business management.
Vance was laid-off in 2001 during the recession and moved back to Salt Lake City to focus on The Christmas Light Professionals. As the business was seasonal, Vance looked for other business opportunities. In 2002, Vance started The Dish Professionals with his brother and Christmas light partner, Ryan Brand. Within two years, he sold the business to his brother and buys The W Lounge, a local night club. Using the knowledge acquired from his business and work experiences, he improves the night club and sells it in 2004. In 2005, Vance starts Silver Phoenix, a remodeling and real estate company.
Ryan Brand
Ryan Brand started attending Utah Community College in 1990, the same year he was diagnosed with cancer. He recovered within one year and began working as a delivery manager for Little Caesar's pizza. In 1997, Ryan joins the The Christmas Light Professionals and begins installing Christmas lights. During the off-season, Ryan worked as a sales rep for MBO, a gift certificate company. In 2002, Ryan leaves MBO to start The Dish Professionals with his brother, Vance. Today, The Dish Professionals is one of the largest satellite TV retailers in Utah, and one of the top 100 Dish Network retailers in the U.S. Ryan lives in Sandy, UT with his wife and three small children. He spends his free time racing motorcycles at Miller Motorsports Park where he holds the #3 plate.