If you are in search of Roanoke, VA events for the holidays there are plenty to choose from. The city and the surrounding areas have a deep history along with a deep affection for the holiday season. Events in the area include:
The Buchanan Festival of the Trees at the Buchanan Library
Madeline's Christmas at the Dumas Center for the Arts and Roanoke Children's Theater
The Vinton Christmas Parade in Vinton
The Salem Christmas Parade in Salem
Holidays at Smithfield Plantation
The Annual Winterfest at the Jacksonville Center
Dickens of a Christmas in Downtown Roanoke
The Franklin County Christmas Parade in Rocky Mount
An Old Virginia Christmas of 1864 at the Booker T. Washington National Monument
The Nutcracker at the Roanoke Performing Arts Center and so much more!
The Roanoke, Virginia area combines history with a sense of progress towards the future. This can be said of the Christmas lighting displays in the area. LED lighting is frequently used in both public and personal outdoor lighting displays and Christmas light installations run the gamut from conservative to Griswold-like.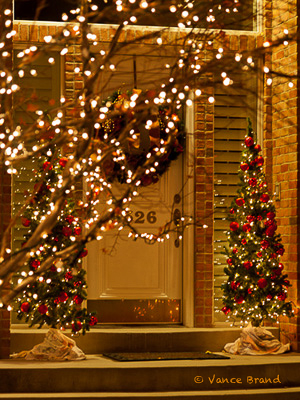 Lights Decorate this Entranceway
One constant remains is the joy of decorating and lighting private homes and businesses. That joy is shared by those who traverse the Roanoke area each holiday season in search of the "ultimate" Christmas light displays.
Sometime however, more isn't always better.
If you have done your own Christmas light installations in the past, there are some compelling reasons to select a professional holiday light installer. They include:
Roanoke's unpredictable weather. Remember what you put up, must come down. January can be a bit brisk.
Safety concerns. Putting up your own Christmas lights involves ladders, clips, nails, hangers, wires and electricity. That can be a dangerous recipe.
Time. Hanging your own Christmas lights takes planning and time. That is time that may very well be better spent with family or on other holiday chores.
Convenience. Face it, Christmas light installations are a hassle. Don't you deserve a more hassle-free holiday?
So what's next? Request on online quote from one or more of Roanoke, Virginia's trusted holiday light installers. They have experience installing lighting displays in some of Roanoke's most desired areas like Grandin, Riverdale, Villa Heights and others. Requesting a bid is simple.
Fill out the online form.
Receive and review quotes.
Make your selection.
It has never been easier to get bids and estimates on professional Christmas light installation in the Roanoke, VA region. For private homes or area businesses, this is the best and most simple way to get the holiday lights you want and deserve. Submit your form and get started today!