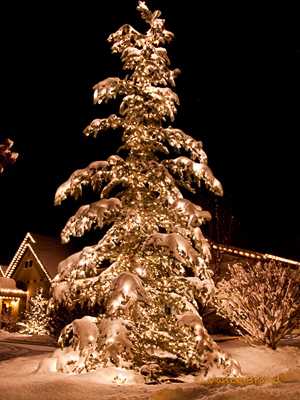 A Christmas Tree Covered in Utah Powder
Professional Christmas Light Installation in Park City, UT
In the winter wonderland that is Park City, Christmas can be a truly magical time of year, full of sleigh rides, dancing firelight, and beautiful holiday lights reflecting off the mounds of drifted snow. The rugged mountain landscape, groves of evergreens, and chill in the air all add to the enchantment and wonder of the season, and an artistically designed, customized Christmas light display can be the final touch needed for a perfect holiday.
If a beautiful display of luminous decorative lights is on your holiday wish list this year, let our professional Christmas light hangers do the work for you while you sit back and bask in the joyous atmosphere of the Xmas season.
Why should you hire our team of professionals for your Christmas light installation?
Local Experience and Knowledge: Our Christmas light installers are all Utah locals, and we know the terrain. Hanging Christmas lights at your Park City resort or mountain home can be a dangerous venture, due to the extreme environment, but with over 22 years of experience, we have the expertise and equipment needed to install your light display safely, efficiently, and to the highest standard.
Christmas lights on Main Street, Park City, Utah
Professionalism
Christmas light hanging is our business, and we take it very seriously. From the first estimation appointment until the final light is taken down, our installers are available, and we will be at your home to answer your service call if a bulb burns out or a strand falls down. Unlike some seasonal light installers who may be in Park City only temporarily and are primarily focused on the ski slopes, we are here for you throughout the entire holiday season.
Complete Service
We seek to offer more to our customers than simply hanging Christmas lights. When you order a light display from The Christmas Light Professionals, you can rest assured that every detail is taken care of for you. Not only will we hang Christmas lights, we will maintain them throughout the season, take them down when Christmas is over, and even store them for you until the next season, all at no additional charge!
Artistry and Design
Our professional installers have an eye for design and can create a customized light display that works perfectly with the unique features of your home or business. We can make your home a shining beacon that increases the Christmas spirit of all who see it!
Whether you live in Park City year-round or retain a mountain resort for the winter season, we would love to craft a magical light display for you this holiday season. Call us today to schedule a free estimate!