So you have decided you want to have a professional Christmas light display for your Milwaukee, WI area home or small business this year. That's an excellent decision. The benefits of having professional Christmas light installations are numerous.
Insures a professional, tastefully done display.
Eliminates risk of personal injury from climbing ladders and rooftops.
Prevents you from dealing with lights that don't work.
Keeps you out of the cold Milwaukee weather when setting lights up and taking them down.
You can avoid the frustration of tangled lights.
No need to worry about extension cord placement.
Eliminates another task from an already busy holiday season.
In Milwaukee, Wisconsin, family roots and traditions are deep. Eastern European families have lived here for generations, and hold those traditions dear. We enjoy our tinseled trees and our holiday beers. We appreciate the holiday evening drives to look at the Christmas lights that people have so generously displayed to help make holidays a bit brighter.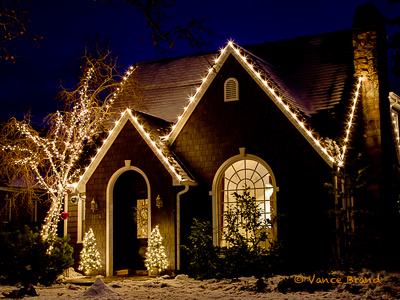 A small home with Christmas Lights
In places that include Pewaukee, Delafield, Sussex, Elm Grove and Merton, the people of Greater Milwaukee, WI have always shared the joys of the holidays. Certainly traditions like the Holiday Lights Festival Downtown, Christmas in the Ward, the Christmas Parade and others bind us together, but perhaps nothing brings back joyous memories like simply getting in the car and driving Milwaukee, Wisconsin neighborhoods enjoying the sparkling snow and Christmas lights of the season.
This year, you can play a part in the tradition easily and without hassle with professional Christmas light installations that not only will be designed for your home and neighborhood, but also for your budget. What better way to share the Milwaukee holiday spirit with friends and neighbors!
Now, there is an easier than ever way to ensure you get the display you want at a price within your budget. In a few simple steps, you will be on your way to a festive holiday light display for your home that is distinctive and tasteful.
Fill out our simple online bid form or call our toll-free telephone number.
Review your display options and price estimates.
Select the professional Christmas light installer you feel is right for you
Enjoy your beautiful home lighting display.
The holidays are far too hectic to fight the weather and wires, and you certainly don't want to be the neighborhood Scrooge. Professional Christmas light installations are available that can increase your holiday enjoyment without adding to your stress. Contact us today. The sooner you get started, the more time you will have to enjoy your beautiful Milwaukee area home for the holidays!