Christmas in Southwest Florida, and in particular Fort Myers, can sometimes take newcomers by surprise. Enjoying the warm sunny temperatures of this part of the country while seeing holiday displays that include reindeer, snowmen, and Santa mixed with palm trees and pink flamingos can be startling at first! But Fort Myers, FL residents enjoy their Christmas light installations just like elsewhere and maybe even more so.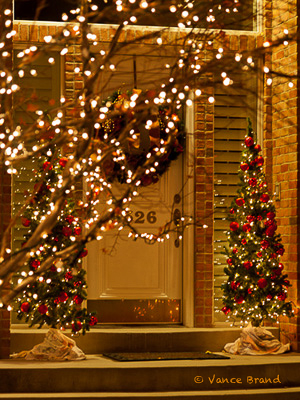 Lights Decorate this Entranceway
Sure the holidays are a bit different here. Sandy beaches replace snow drifts. Sailing replaces snow plowing. It seems people in Fort Myers enjoy the mixture of sun and the holiday season and have unique ways to enjoy it. The Fort Myers Christmas Boat Parade for instance has been around for over a quarter of a century. Dozens of boats reflect their extravagant lighting in the water as they pass. You will also find the area uses fireworks to celebrate winter holidays including Christmas and New Year's.
While there are differences in how the Christmas season is celebrated here in Fort Myers, Florida, there are also similarities. Those include the love for decorating homes and businesses in the spirit of the season. Just like everywhere else, people love traveling to see the lights of area homes. Some are over the top, some are modest, and others are extremely well designed and installed. These are usually the professional Christmas light installations that can be found in and around Fort Myers, Florida.
Professional Christmas light installations can be seen all over this part of the state including Cape Coral, Bonita Springs and even further south in Naples and on Sanibel Island. While some individual home owners have mastered the skills needed for the best looking Christmas light installations, many are turning to professional Christmas light installers. Here are five very good reasons.
Installing Christmas lights takes time, especially if you want it to look tasteful and stylish. The holidays are the busiest time of the year for many, and that time is at a premium.
More and more people would rather spend time enjoying the holidays than hanging Christmas lights.
Working with strands of lights is frustrating. Lights get tangled, bulbs often don't work, and what you thought would be a terrific display design can sometimes look differently than anticipated.
Climbing ladders and attaching lights can be dangerous from an accidental fall, electrical shock and fire standpoint.
It simply looks better. Professional Christmas light installations look crisp and will accent a home's design and beauty. It can also be crafted to take advantage of the neighborhood setting.
Today it is easier than ever to find that Fort Myers, FL professional Christmas light installer who will respect your property and your design wishes. Getting started is easy!
Fill out the online form or call the toll-free number listed on this page.
Your bid request will be reviewed by professional installers throughout the region.
You will be provided estimates and options. The final choice is yours!
Your holidays can be hassle-free when you choose a Fort Myers, Florida holiday lighting professional to decorate your home's exterior. You can sit back and enjoy the compliments when you entertain this
Holiday time, but don't wait. The best installers get busy first and you want to enjoy your lighting for the full season. Fill out the online form to get your bids and estimates today!