Frequently Asked Questions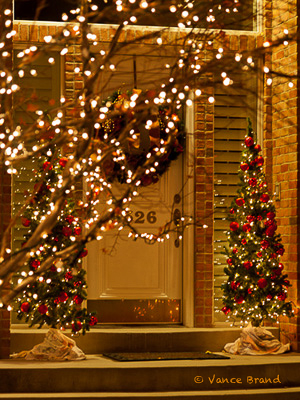 The front door is decorated with Christmas lights
How much would it cost to install Christmas lights at my home?
Surprisingly, it may not cost as much as you think to have someone hang Christmas lights. The price to have Christmas lights installed depends on the amount of decorating you would like us to do. Our minimum job is $200 for the installation and removal, although some commercial jobs can cost over $10,000 dollars for decorations and the holiday light installation. To get an estimate within 10% of the final price, give us a call or fill out the estimate request form.
Do you provide the Christmas lights or do I have to buy my own?
Up to you. If you already have Christmas lights, we can hang those for you. If you have special Xmas lights that you want to buy and have us install them, we can do that too. If you don't have any Christmas lights, we can provide them for you. We carry a large selection of mini lights and bulb lights, both LED and incandescent in a variety of colors.
When can you hang Christmas lights for me?
We start hanging Christmas lights during the first week of November and continue until mid-December. We can usually install your holiday lights within a few days as we have multiple Christmas light installers working throughout Denver and the surrounding suburbs. With our many Christmas light installers, we can usually hang Christmas lights at your property within a few days.
What sort of warranty do you offer?
The Christmas light installation is warrantied from the date of the install to Christmas Eve. We always do the best job we can, but if anything is bothering you or doesn't look right, give us a call. We want you to be happy and will do what we can to ensure that you enjoy your Christmas lights. We also offer a three-year warranty on LED Christmas decorations purchased from us. We will not charge you for new lights, clips, or light strings.
Are you insured?
Yes. We have a workman's compensation insurance policy and general liability insurance. Installing Christmas lights can be very dangerous and people do get hurt in this business. We suggest that you only hire an insured Christmas lighting company.
When will you take my Christmas lights down?
We begin taking Christmas lights down in the beginning of January and have them all down by February. Remember that take-down is a free service, there is no need to pay for removal. Also, we take lights down by neighborhood so don't be worried if your lights aren't down by the second week of January. If you would like to schedule a specific removal date, there will be a $25 booking fee.
My HOA requires my lights to be down by a certain date. Can you have them down by then?
Some of our customers live in neighborhoods where the HOA requires the lights to be down by a certain date. Let us know if your lights need to be down early and we can arrange for an early removal of the Christmas lights. Please let us know what your HOA requirements are when we install the lights.
What cities do you serve?
We serve the greater Denver metropolitan area including Broomfield, Brighton, Northglenn, Commerce City, Westminster, Thornton, Wheat Ridge, Golden, Aurora, Lakewood, Denver, Englewood, Columbine, Ken Caryl, Littleton, Highlands Ranch, Lone Tree, Centennial, Castle Rock, Parker, Greenwood Village, and Cherry Hills.