The Christmas Light Professionals
Established in 1989, The Christmas Light Professionals is one of the oldest holiday lighting companies in the Denver metro area. Started by Vance Brand, while working part time as an electrician for his father and operating his own window washing company, he was approached by one of his customers to hang Christmas lights. He thought that was a bright idea and started his Christmas light installation business. Originally named Image Services, the name was changed in 1998 to The Christmas Light Professionals to better reflect the core services of the business and to avoid confusion with another similarly named company. Today with over 20 years of experience we are one of the oldest Christmas light installation companies in Colorado.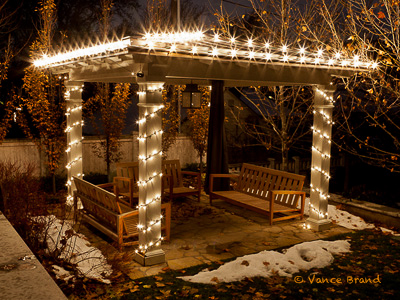 Christmas Lights Installed on a Gazebo
We Are Professionals
We specialize in offering our customers a "Professional" experience. From your fist phone call to take down in January you will always be working with professionals who understand that your experience this holiday season is our number one priority. Value
We offer the best value in Christmas lighting. We provide free estimates, free three-year product warranty, free warranty on the installation, and free removal in January. We also price-match other professional companies who carry liability insurance and worker's compensation insurance.