Making Your Holiday Bright with Professional Christmas Light Installation
There is nothing like a dazzling display of beautiful holiday lights at your home or business to increase your Christmas spirit and the spirits of everyone around you. If you love the look and feel of bright seasonal lights but lack the time, equipment, or ability to hang them yourself, let the LOVE! Christmas Lights of Boulder take the hassle out of your holiday this year with our custom Christmas light installation services. You can sit back, relax, and enjoy all of the wonders of the Christmas season as we craft a magical light display perfectly customized to highlight the unique features of your home.
Top 5 Reasons to Hire the LOVE! Christmas Lights for Your Christmas Light Installation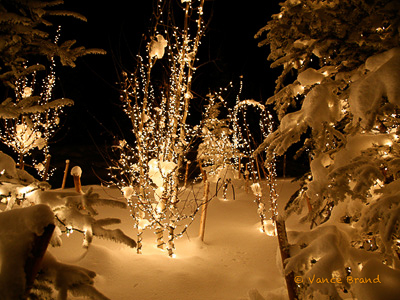 A recent snowfall on these lit trees
Satisfaction
In every aspect of the Christmas light installation process, from the initial estimate call to take-down and storage services at the end of the season, your satisfaction is our top priority. Our Christmas light installers are true professionals who will take care to create a beautiful light display at your home that will bring back the childhood wonder of Christmas for all who see it.
Convenience
We know the holiday season is a busy time for everyone, with parties, shopping, and decorating filling your calendar, so we'd like to take one thing off your list this year with our professional Christmas light installation services. There is nothing for you to do but bask in the light of your luminous holiday display.
Artistry and Design
With over eight years of experience, we have the know-how and equipment needed to hang Christmas lights that perfectly highlight the exterior of your home, making it a beautiful and wondrous beacon that will be the bright spot of your neighborhood this year.
Safety
Christmas light installation can be dangerous, and if you lack the right equipment and experience to install your own lights, you could be unnecessarily risking your home and your own safety. Let our Christmas light hangers take the danger out of your holiday with our warranted, insured Christmas light installation services.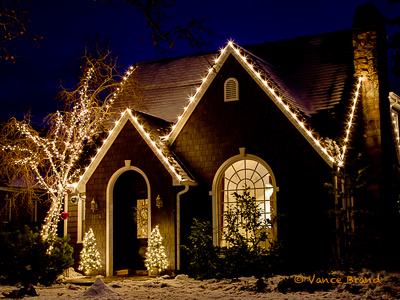 A small home with Christmas Lights
Enjoyment
Perhaps more than any other, the ultimate enjoyment and magic that professionally installed holiday lights bring to your Christmas might be the number one reason to hire our team of professional Christmas light installers. Bring the delight and magic back to your Xmas season this year, with professional, custom Christmas light installation from LOVE! Christmas Lightss of Boulder, CO.
If you live in Erie, Broomfield County, Boulder County, or surrounding areas, please call LOVE! Christmas Lights today to receive your free estimate for professional seasonal lights and installation.