Proudly offering Christmas light installation in Boulder, Broomfield, and Erie, CO
LOVE! Christmas Lights is a professional Christmas light installation company centered in Erie, CO that offers services throughout Boulder and Broomfield counties. Founded by Boulder resident Mark Risius, the LOVE! Christmas Lights has been brightening up Colorado with beautiful customized seasonal light displays since 2004. LOVE! Christmas Lights currently employs six skilled lighting technicians who have the knowledge, equipment, and experience needed to create a breathtaking holiday light display at your home or business that will brighten the Christmas spirits of all who see it.
Why hire the LOVE! Christmas Lights for your Christmas light installation?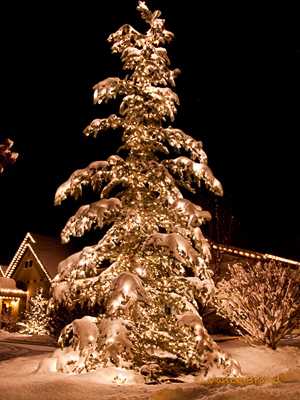 Snow falls on this Christmas tree.
Local Knowledge and Experience
With seven years of experience hanging Christmas lights in Colorado and a team of Christmas light installers who are familiar with the unique weather and features of the Rocky Mountain region, you cannot go wrong hiring the LOVE! Christmas Lights. We carefully install every display of lights with due consideration for the weather in order to protect both your lights and your home from even the heaviest snowfall. We also treat your property with the utmost respect and will use non-invasive Christmas light hanging methods whenever possible.
Professionalism
As Christmas lighting professionals, we have worked to hone our craft, creating truly dazzling displays of holiday lights each year that are customized to highlight the unique features of your home and set it apart as an Xmas beacon to all of your neighborhood. We seek to provide a level of design beyond what you could do for yourself, making a Christmas light installation package from LOVE! Christmas Lights a truly worthwhile investment.
Complete Service
Our ultimate goal is to offer you all of the charms and wonder of a seasonal light display without any of the hassles. Every aspect of our service, from the initial estimate to our prompt take-down and convenient storage service, is completely streamlined to save you from any unnecessary annoyances. All that we ask of you is that you make first contact; we will take it from there.
If you are looking to brighten your holiday season this year with a luminous display of seasonal lights, please call the us today. We look forward to hearing from you!
What happened to The Christmas Light Pros of Boulder?
In 2017, we changed our name from The Christmas Light Pros of Boulder to LOVE! Christmas Lights. We still offer the same great service and will still continue to service our existing Christmas lighting clients.