Professional Christmas Light Instllations
The holiday season can be a magical occasion full of wonder, enchantment, and family fun, but it can also be a stressful time as you try to arrange your schedule for shopping trips, Christmas parties, and holiday decorating. Why not hire a professional Christmas lighting company to take Christmas light installation off your list, freeing you up for more family time and holiday fun. Let a professional, experienced Christmas light installer do the work for you while you sit back and enjoy the enchanting effects of a festive seasonal light display at your home this Christmas season.
Hire a Professional for Your Outdoor Christmas Lights
There are many reasons to hire a qualified Christmas decorating company to install Christmas lights on your Utah County home. Here are a few of them:
Quality Customer Service
Your home is your most valuable investment and your private family sanctuary in today's hectic world; profession Christmas lighting installers approach every home for Christmas light hanging as if it were their own. In every aspect of the Christmas light installation process, from the initial estimate consultation to timely take-down services, your satisfaction is the top priority. The ideal light display will be designed for your home's unique features and will be maintained throughout the holiday season, all with no effort on your part.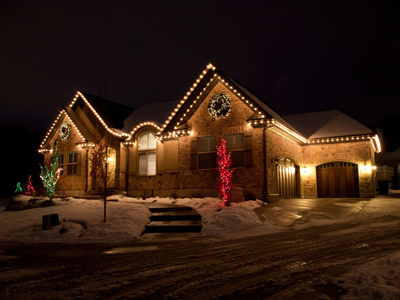 A Utah Christmas Light Display
Affordable Pricing
The ultimate goal for everyone is a magical holiday season. Prices for Christmas decorating services are very reasonable in the Provo valley. Professional outdoor lights at your house is an affordable reality. At your estimate consultation, the designer will work with you to create a design plan that both fits your budget and accomplishes your vision for a luminous holiday display at your home.
All Inclusive Service
Many Christmas lighting companies will provide you with everything you need to enjoy a beautiful Christmas light display at your home. A designer will disucss your lighting options. These decorations can usually be obtained from the installation company. Service calls can be arranged in the event the holiday decorations are not working. After the New Year's, the lights will be removed from your property and can either be stored for you or left at your residence.
Schedule an Appointment
If you would like to schedule an estimate appointment or learn more about Christmas light installation services in Provo, Orem, Springville, and throughout Utah County, please call or email today and let the professionals do the chores for you this holiday season.