Have you been missing the feeling of magic and wonder you used to experience as a child at Christmastime? If Christmas has turned into a whirlwind of busy shopping and activities with little time to simply revel in the holiday atmosphere, Phoenix Christmas Lights may have just what you need. With our professional Phoenix Christmas decorations, we'll take one more tedious task off your holiday list, leaving you with the wonderment of a beautiful installation of holiday lights at your home and a lot more time to enjoy it.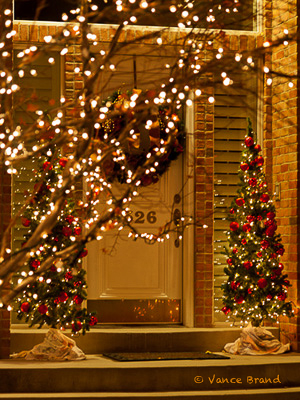 Lights Decorate this Entranceway
Have you been thinking about hiring a professional company to hang your holiday lights but wondered if the end result is worth the cost? Here are just a few of the reasons why we believe you'll be calling Phoenix Christmas Lights year after year for our professional Phoenix Christmas decorations service:
Creative Design: Every home has unique features that can truly stand out with a display of holiday lights and decorations. Our professional installation team has been hanging lights for many years, and we are full of creative ideas about how to make your home stand out with a "wow factor" in your neighborhood this Christmas. If Christmas has become somewhat humdrum for you over the years, let us bring back the magic with our professional and creative Phoenix Christmas decorations.
Safe Installation: There is simply no reason why you should be risking yourself and your home hanging your own holiday lights when you can hire a professional company with the right equipment and expertise to hang them for you. As a fully insured company, we take pride in our careful and meticulous approach to hanging Christmas lights and it is one of our greatest pleasures to offer you a risk-free holiday this season.
Holiday Cheer: You have to admit that when you see the shining brightness of holiday lights, your heart lifts just a little. We would love to use our professional Christmas light installation services to lift the spirits of you, your family, and everyone in your neighborhood this year and remind you just how full of magic the Christmas season can be.
Call Phoenix Christmas Lights today to schedule an appointment for a FREE Phoenix Christmas decorations estimate. We can't wait to come to your home and share our ideas with you to help you turn your home into a shining Christmas wonderland for everyone to enjoy this holiday season.