One of the joys of living in the Milford and New Haven areas of Connecticut is how beautiful the area can be when the snow falls during the holiday season. There are also some pretty special events to mark the season. The New Haven Fantasy of Lights draws near 12,000 cars annual to Lighthouse Park Point. The city also conducts its annual Christmas tree lighting shortly after Thanksgiving. For Milford, what has become known as "That House in Milford" draws traffic from all over, enjoying its over-the-top Christmas light decorating that is right out of "A Christmas Vacation".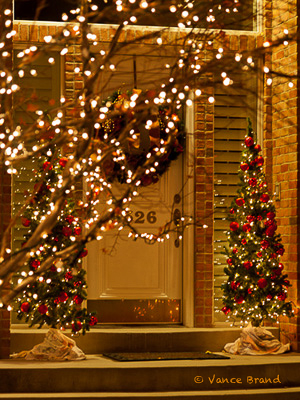 Lights Decorate this Entranceway
You may not have the desire to challenge "challengeThat House is Milford" but you can join in the spirit of the holiday with a little Christmas light decorating of your own. Many homeowners in Guilford, Woodbridge, Madison, and Orange have turned to professional Christmas light decorating companies. These companies can provide tasteful displays that mirror the neighborhood and the tastes of the homeowner.
Many people will choose professional Christmas light decorating companies in New Haven because of the beauty and sense of style they bring to a project, but there are many reasons to select a professional. These reasons include:
Safety - Professionals are used to working on ladders and with electricity.
Convenience – Few people enjoy hanging Christmas lights.
Less Frustration – Working with tangled cords and lights can lead to stress.
The Weather – No more dealing with frigid winds, ice and snow. Lights are not only installed, but taken down in a timely manner following the holidays.
How do you find the right Milford or New Haven, CT professional Christmas light decorating company for you? It can start right here by filling out the convenient online form or by placing a phone call. Your information will be reviewed by local Connecticut lighting professionals who have the opportunity to bid on your project. You then will have the opportunity to take a look at any proposals and what they include, and then make a decision. It is always your choice!
Your professional lighting display will add to the festive atmosphere of your neighborhood that your family will enjoy. Professional Christmas light decorating is also available for businesses who want to express holiday wishes through a display of lights.
Christmas light decorating is a great way to help cut through the early darkness of the season, and lets you enjoy each evening of holidays. To get bids and estimates on your home in New Haven, Milford and the surrounding Connecticut areas, fill out the online form today.