In Logan, we understand our customers. Therefore, we offer not only the highest quality product and Christmas light installation available; we offer it with the most value at the best price among any professional Christmas light hanging company in Logan, Utah. We do this by installing the Christmas lights ourselves, ordering our professional holiday lights in bulk, and by doing the job right the first time! We don't have to come back to fix our lights, but if we do, we offer an unbeatable warranty!!
Quality Christmas Light Installations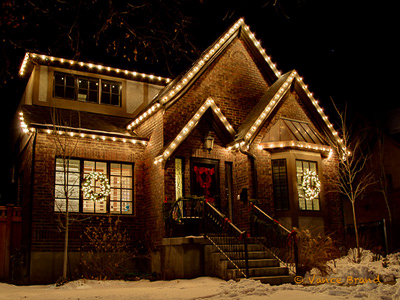 Christmas lights on a home in Logan, UT
We install Christmas lights with the same care and quality as we would do on our own home. We use the highest quality Christmas lights available, custom fit them to your home, and hang Christmas lights as straight as an arrow. All of our extension cords are hidden from view; you will not see any ugly cords hanging from the eves or running over your roof. We don't use 'gutter clips' like every other company; we hang Christmas lights below the eves, as the lights were designed, and the difference in the look on your home is undeniable.
Great Customer Service
We know that if we don't take care of our customers, somebody else will. We also know that the best way to keep a customer happy is not to upset them in the first place. This is why we will return your phone calls quickly, will not promise you anything that we can't deliver on, and we will never charge you more that the what the job entails. One thing we will always promise you; the best looking house on the block. We have a 24 hour service call guarantee: If anything goes wrong with your holiday lights, we will have them fixed within 24 hours of your call!
Christmas Light Installation Service
Our Christmas light hanging service includes:
Unbeatable customer service
Free estimation of lights and labor for your holiday decorations
Highest quality installation of Christmas lights and decorations
A free warranty and guarantee on our products and installation until Christmas day
Free removal of lights after the new year