Jacksonville Christmas Lights
Are you thinking of hiring a professional Christmas light installation company from Jacksonville, Florida to design and install a beautiful Christmas lighting display for your home or business? Give us a call or fill out the estimate request form to connect with a local JAX Christmas light installation company.
Why You Should Hire a Professional Christmas Light Installation Company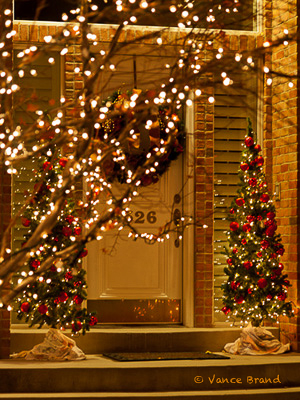 Lights Decorate this Entranceway
Hanging Christmas lights may seem easy, but trust us, it isn't! Professional Christmas light installation companies have the experience, skills, knowledge, and equipment to design and build beautiful Christmas light displays.
Experience
A professional Jacksonville Christmas lighting company has installed lights on hundreds of homes in Florida. They've decorated homes, rooftops, pathways, trees, shrubs, fences and everything else in your yard. There probably isn't anything that a professional company has installed lights on.
Skills
Professional companies have learned from experience and trained their employees how to decorate with Christmas lights. They have been trained to pay attention to details, ensure the lights are installed correctly, and make sure the Christmas light installation looks like it was installed by professionals!
Knowledge
With years of experience and honed skills, a professional Christmas lighting company has the knowledge necessary to install lights on a variety of structures and features at your property. They also know how to correctly hang Christmas lights so they look beautiful and will not have any problems during the holiday season.
Equipment
Each Christmas light installation crew has all the necessary equipment, tools, ladders, and lights to install a great Christmas light display for your Jacksonville home. You don't need to provide anything.
How To Get A Quote
Getting a quote from our Jacksonville Christmas light installer is easy! Just call the number above or fill out the estimate request form. A holiday light designer will contact you to begin the process of creating an estimate for your Christmas lights display.
Areas We Serve
Christmas light hanging services are offered in the Jacksonville metro area including Northside, Southside, Westside, Arlington, Windy Hill and Jacksonville Beach. To find out if your area is serviced, just call or request an estimate through the website.