Who doesn't love Christmas lights? Well, in Columbia, SC, the passion for the displays is evidenced by the million light Holiday Lights on the River display and associated events. Over 400 themed lighting displays punctuate a two mile loop at Saluda Shoals Park. December festivities include the Wetland Wonderland Walking Trail with a laser light show, and the Winter Wonder Ride, an exciting 125 foot, fun-packed ride for the entire family. This however, is just part of what makes the season so enjoyable in the community. It is also is aided by the increasing amount of private homes and businesses who are installing Holiday lights.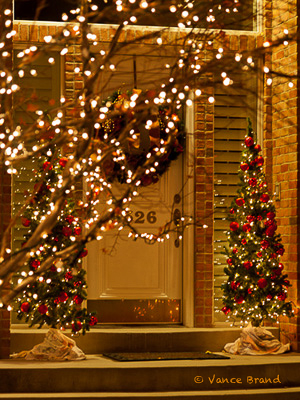 Lights Decorate this Entranceway
While we love Christmas lights in Columbia, South Carolina, few enjoy the task of Christmas light hanging. Christmas light hanging involves:
Climbing up on ladders.
Checking and re-checking light bulbs.
Guess-timating how your lights will look until darkness arrives.
Trying to figure how many extension cords you need.
Worrying about winds pulling your lights down.
Having to take them down after the holidays.
A potentially embarrassing display.
These are the reasons people are turning from DIY Christmas light hanging to professional holiday light installations. Using professional Christmas light installers is convenient, safe, and a hassle-free way to decorate for the season…and we make it easy to get started.
A network of Columbia, SC installers are available to install Christmas lights throughout the region. They have completed exceptional projects in Wildwood, Spring Valley, Lake Carolina, and Blythewood. These displays are designed to accent a home's charm and the homeowner's personality.
If you don't look forward to Christmas light hanging, let our system take you to a new level of convenience. It takes just three simple steps.
Fill out the simple online form or call.
Review bids from Columbia, SC Christmas light installers.
Select the installer you determine is best for you!
Imagine, a beautifully, professionally decorated home without the hassles. Your family will enjoy it and your neighbors will appreciate it.
While families certainly enjoy the thrill of heading to Saluda Shoals Park to take part in the activities and lighting displays, there is still a charm in packing everyone up and taking a holiday drive to see the lights. This year, you can be a part of that joy in the Columbia, SC region with your professionally installed Christmas lighting display. Say goodbye to the hassles of Christmas light hanging forever! Fill out the convenient form or call today and enjoy your holidays more than ever!