One of the unique traditions of Christmas light decorating in Albuquerque, NM are the thousands of luminaries that are used to celebrate the season. The traditional luminaries are brown paper bags with a couple of cups of sand and a votive candle. Luminaries trace their history back over 300 years and they can be found during the holiday season throughout Albuquerque, New Mexico along sidewalks, driveways, near churches and in yards. In December, the Old Town Plaza's annual Luminaire Tour is a popular tradition for many. But Albuquerque Christmas light decorating includes more than luminaries. The River of Lights includes about 400 light displays and a synchronized Christmas music and light show. The Twinkle Light Parade is another favorite, with floats, dancers and again, thousands of holiday lights.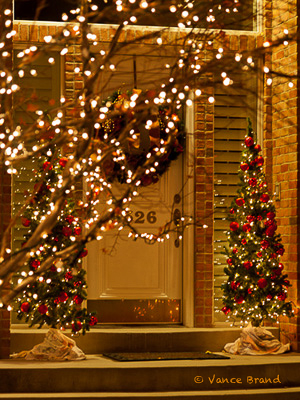 Lights Decorate this Entranceway
Luminaries and holiday lights are also very popular throughout the neighborhoods of the community as well. Homes in neighborhoods like the Foothills, the High Desert, Nob Hill and North Valley have some impressive displays, many of which are professionally installed. These professionally installed holiday light displays are becoming more popular in Albuquerque, NM neighborhoods and it is easy to understand why. Professional installed Christmas lights are:
Convenient, offering no-hassles for homeowners.
Beautiful, with displays tastefully placed to enhance the home and surrounding neighborhood.
Safer, eliminating the need for a homeowner to climb ladders and work with electricity.
Now, it is easier than ever to connect with a professional Christmas light decorating company in Albuquerque, New Mexico. Here's how to take advantage of a network of professionals looking to bid on your project:
Place your information in the easy to use online form, or call the toll free number.
In a short time you will receive a bid on your lighting projects.
Finalize what the bid includes and select your professional holiday light installer.
All there is left to do is enjoy your lights and the compliments you'll get from family, friends and neighbors. It couldn't be easier to step up your Christmas light decorating expectations! Professional installers are ready to create the perfect display for your home or business.
Professional lighting for your Albuquerque, NM business can add to your branding, gain attention, and it's a great way to say Merry Christmas to your clients and prospects.
Fill out the online form now to secure the best dates for installation. Enjoy the convenience, value and beauty of professional Christmas light decorating.