If you are in search of professionally installed Christmas lights and live in the Savannah, Georgia area, you have come to the right place! We offer free bids and estimates on professional Christmas light installation for the entire Savanna, GA area. Once you discover the beauty and ease of holiday lights that are professionally installed, you'll want to make it a family tradition!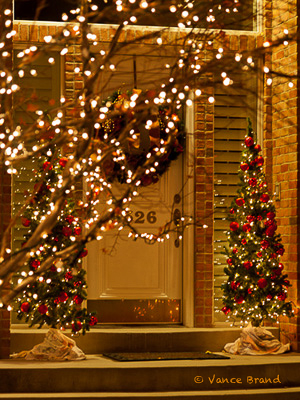 Lights Decorate this Entranceway
Savannah, Georgia has long embraced the holiday season and the activities that surround it. Festivities abound including the entire series of Savannah Holly Days events. Residents and visitors alike can enjoy the Charles Dickens Christmas Walk, Christmas Tradition at the Savannah Theater, Tybee for the Holidays, The Savannah Harbor Festival of Lights, Evening Tours by Candlelight at the Davenport Museum and so much more. People travel to the area from throughout the Southeast to share the joy of the season. The Savannah community has been building a reputation for its spectacular lights and spirited celebrations. Businesses and private homes have increasingly joined in on the fun.
If you wish to add to the spirit of the holidays, contact us for professional Christmas light installation that will impress friends, relatives and neighbors. We can even help with commercial Christmas light installation for small businesses and offices.
Putting up your own holiday lights can be a hassle and it can be dangerous. Having your Christmas lights professionally installed in Savannah, GA adds to the atmosphere of the season without adding an additional task to the busy season. Your home will look beautiful and spread holiday cheer for weeks. The lights will then be professionally removed in a timely fashion following the holidays.
Holiday lights are spreading cheer throughout the Savannah, Georgia region. No matter where you live, professional holiday light installation is available.
Mayfair
Ashley Park
Isle of Hope
Richmond Hill
Parkside
Victoria District
If you ever wondered if having professionally installed Christmas lights were for you, this is the year to find out. Here's how it works:
Call us or submit a bid request form.
Review you're your Christmas lighting options from a professional installer.
Get your free estimate.
Relax and enjoy your beautifully decorated Savannah, Georgia area home this season!
Here on the East coast darkness falls in the late afternoon during the winter. Professionally installed holiday lights will brighten your evenings and add to your enjoyment of the season.
If you've ever wondered why some homes looks so beautiful during the holidays, odds are they were professional decorated. Now it is easier than ever for you to have your home looking every bit as festive. Contact us now to maximize the enjoyment of your holiday lights.