Looking for professional Christmas light installers in the San Jose, California area? This is THE online site to connect you with professional holiday light installers throughout the region. Here you will be able to obtain free estimates and bids on the perfect Christmas lighting package to suit your home, your personal tastes, and your budget! San Jose, CA professional Christmas light installers can have your home looking its best for the holidays.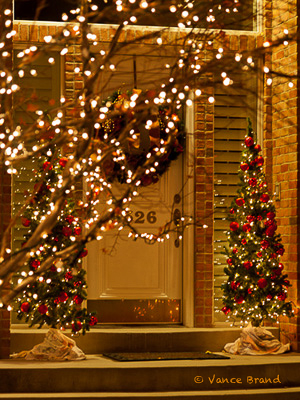 Lights Decorate this Entranceway
San Jose embraces the holiday spirit with a variety of events throughout the season that spread Holiday cheer. One of the most endearing and most popular is Christmas in the Park. For over 30 years now, Christmas in the Park and its associated activities have brought people into downtown San Jose to Plaza de Cesar Chavez. Here they enjoy over 2 acres of holiday displays including the 60 foot "Giving Tree", entertainment, lighting displays, train rides, wood-crafting elves, caroling mice and more. It is an amazing way to share the holiday spirit with family, friends and neighbors.
Another way to celebrate that cheer is with private home and business displays. Some of these displays are quite spectacular and many are very tasteful. If you are considering joining in on the holiday lighting this year, think about using a professional installer. Professional Christmas light installers can make sure your lighting fits your neighborhood, your home, and your personal desires. When you have a professional Christmas light installer create the lighting effects your home, you are saving yourself time and hassles. You are also keeping yourself from climbing on ladders and roofs.
Add to the spirit of the holidays, by contacting us for professional Christmas light installation that is designed to impress. We will even assist you with commercial Christmas light installation for small businesses and offices in the San Jose area. Not only will your display provides weeks of joy, but following the holidays you don't have to worry about taking them down. Removal is included in the price of your lighting display.
Holiday lights continue to get more extravagant. Taking an evening drive through San Jose suburbs and neighborhoods throughout December offer Christmas lights around almost every corner. You'll find lighting displays in:
Willow Glen
Silver Creek Valley
Cambrian
Evergreen
Blossom Valley
When you see lights that exceptional, they very well could have been professionally installed. This is the year to discover the convenience of having your holiday lights installed, and it's easy to do!
Call our toll free number or submit our online bid request.
Check out your holiday lighting options from a San Jose professional installer.
Review your free bids and estimates.
Sit back and enjoy your beautifully decorated San Jose area home.
Remember, darkness comes early in the winter, and professionally installed holiday lights can brighten your neighborhood and your spirits.
The secret to distinctive, tastefully decorated homes and business is in making the move to professional Christmas lighting installation, and we are here to help. Call or fill out our on-line form and be on your way to a more relax and festive holiday season.