Christmas events in the Fort Worth area are exceptional and frequent. We should be grateful we live an area that embraces the Holidays and the associated celebrations. We are fortunate to have so many things to do in Fort Worth during Christmas season. These include annual events that include Lone Star Christmas, Panther Island Ice, The Trains at North Park, Fort Worth Paradise of Lights Christmas parade, the Gift of Lights at Texas Motor Speedway, and so much more. Many of these Fort Worth holiday events have become traditions for area families.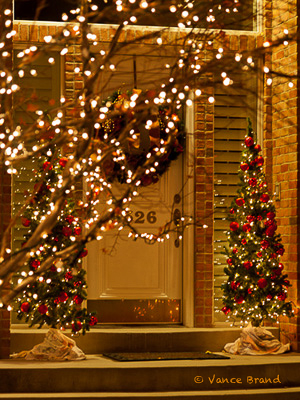 Lights Decorate this Entranceway
What also continues to add to the local celebratory spirit is the growing list of homes and businesses that are embracing the holidays with their own individual light displays. In some Fort Worth area neighborhoods, these displays have gone above and beyond. As these displays become more elaborate and complex, there are reasons many of these homeowners and business owners are choosing professional Christmas light installation for their holiday displays.
The Holidays are a season to enjoy, not spent untangling light strands, replacing light bulbs and being frustrated.

Professional light installation is safer than climbing on roofs or ladders.

Professional light installation looks better.
The Holidays, after all, are a season to enjoy. Why should you spend this special time wrestling with lights, cords, and battling the elements? Then, you have to take them down following the Holiday season. You'll be glad to know that professional Christmas light installation and take down is easier and more affordable than ever when you choose Christmas Lights by Integra Lawns.
Our professional light installation takes into consideration the size and design of your home and the neighborhood where it is located. We decorate homes and businesses using roof lines and gutter lines and decorating bushes and limbs. We even perform trunk-wrapping. We can even decorate your home or business with a giant wreath. Our professional Christmas light installers brighten your home or business' personality, and we make it all hassle-free!
We provide value by decorating homes and businesses that bring joy to family, friends, and neighbors. Decorated businesses are a terrific way to say "Happy Holidays" and are an excellent form of public relations.
Have you ever wondered what your home would look like when professionally decorated? This is the year to discover the experience. Getting a quote is easy. Simply fill out the online form or call us. Soon, you can be on your way to a beautifully decorated home that will be the envy of your Fort Worth, TX neighbors. No more worrying about tangled wires, burned out bulbs or being disappointed in a display that doesn't reach your expectations. Make this the year you get a display that meets and exceeds your expectations.
See why more and more homes and businesses in Benbrook, Burleson, Crowley, Fort Worth, Arlington and others are choosing professional light installations from Christmas Lights by Integra Lawns to make their season easier and more enjoyable.